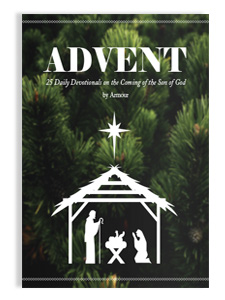 Advent :
25 Daily Devotionals on the Coming of the Son of God
Advent, Latin for "the coming," is a four-week period culminating on Christmas Day intended for extended reflection upon the meaning and significance of Christmas. That is, the coming of the Son of the living God into our world to dwell amongst us as one of us; His defining and embodiment of genuine love; and His service even unto His atoning death upon the cross from whence spilled the innocent blood that paid the ransom for many.
This resource comprises 25 daily devotionals directing attention to passages from the Gospels of Luke and John in order that families may devote the month of December to such reflection and begin to grasp the true significance of the coming of Immanuel, "God with us." The book also contains four Christmas carols accompanied by explorations of their composition and rich theology.
---
About the Author
Armour is the author of such works as A Look at Life from the Saddle and A Handbook for Parents in Ministry: Training Up a Child While Answering the Call (with Dorothy Kelley Patterson). Through his writing, Armour aims to prompt thought, contemplation, and discussion among readers. Armour and his wife, Rachel, live in north Texas.