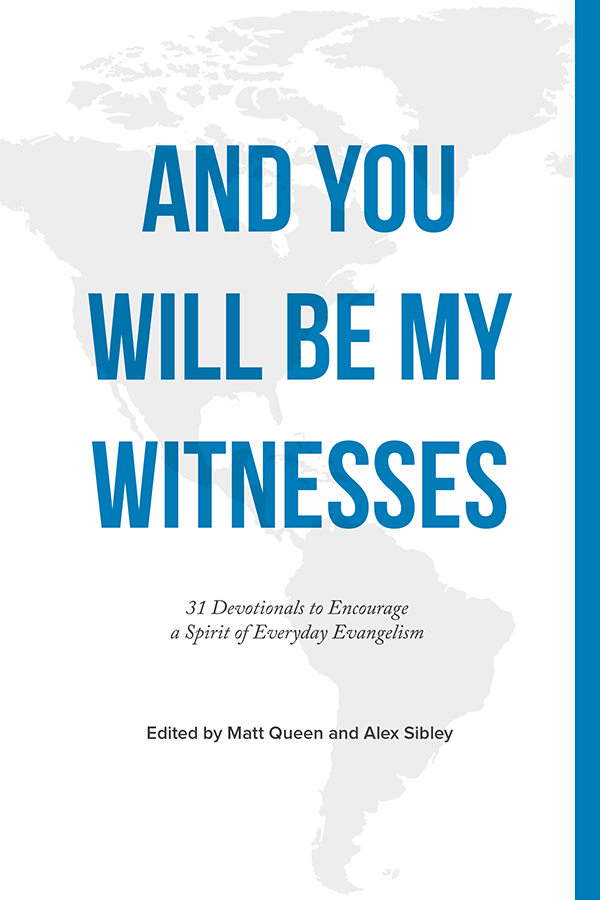 And You Will Be My Witnesses :
31 Devotionals to Encourage a Spirit of Everyday Evangelism
Edited by Matt Queen and Alex Sibley

Designed as a 31-day devotional, this book presents focused expositions of select Scripture passages from the Gospels and Acts pertaining to evangelism. When read along with an open Bible, these devotionals will illuminate the Scripture's teaching on various aspects of the evangelistic task, highlighting how the likes of Paul, Peter, John, Stephen, Philip, John the Baptist, and even Jesus Himself went about proclaiming the message of God's salvation for the world.
Leading readers in application-based study of the Scripture and providing points of guided prayer, these devotionals will speak directly to the personal evangelist's heart, encouraging readers to share the Gospel every day, everywhere, with everyone they meet.
ORDERS OF THIS BOOK WILL BE FULFILLED BY THE SEMINARY HILL BOOKSTORE AND YOU WILL BE REDIRECTED TO ITS SITE FOR PURCHASE.
Paperback
Published: June 11, 2019
128 pages
6 x 9 inches
ISBN: 978-1-7327740-1-8
---
About the Editors
Matt Queen serves as the L.R. Scarborough Chair of Evangelism ("Chair of Fire"), professor of evangelism, and associate director for doctoral programs in the Roy J. Fish School of Evangelism and Missions at The Southwestern Baptist Theological Seminary in Fort Worth, Texas.
Alex Sibley serves as managing editor of Seminary Hill Press and associate director of news and information at Southwestern Seminary.