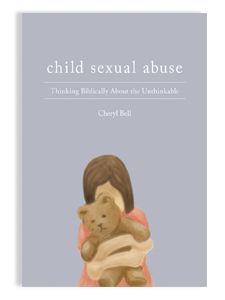 Child Sexual Abuse :
Thinking Biblically About the Unthinkable
Child sexual abuse is a difficult topic to address, not because the facts are unknown but because it is a topic we would rather not have to face. There is no nice way to describe an adult's use of authority and physical power to satisfy his or her sexual desires at the expense of a child.
Does the Bible speak to such an issue? How do the truths of God's Word relate to a child who has been sexually abused? Is there hope for healing?
In this booklet, Cheryl Bell explores the reality and effects of child sexual abuse and relates biblical wisdom on how parents can lead their children to trust God in the crisis, knowing that He can answer hard questions and believing that He can bring good out of evil.
---
About the Author
Cheryl Bell serves as an adjunct professor of biblical counseling at Southwestern Seminary, where she also provides counseling services to the women of the seminary as part of the ministry of Southwestern's Walsh Counseling Center. She earned her Ph.D. in Biblical Counseling and her Master of Arts in Religious Education from Southwestern Seminary. She and her husband Rex have four children and two grandchildren.
---
Counseling Series