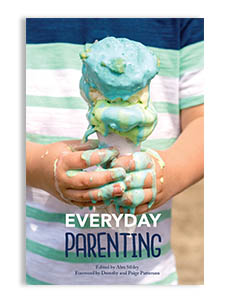 Everyday Parenting
Edited by Alex Sibley

As anyone who has children can attest, parenting is hard. As such, many parents are overwhelmed by the responsibilities associated with raising another human being, and they would likely agree it is easy to lose sight of what parenting is truly about: raising children to walk in righteousness.
So how can parents maintain their focus? What tools has God provided for dealing with the various issues that stem from raising children? And where can parents turn for answers to their questions?
Through His Word and His Spirit, God has provided both the instruction and the power for parents to persevere in the parenting task. This volume aims to illuminate that instruction so parents can move forward in the task of everyday parenting armed with the Sword of the Spirit in order to face head-on the challenges of raising children in the ways of the Lord.
Paperback
Published: June 13, 2017
240 pages
6 x 9 inches
ISBN: 978-0-9988325-1-7
---
About the Authors
This volume was written by faculty, alumni, and friends of The Southwestern Baptist Theological Seminary. Alex Sibley, managing editor of Seminary Hill Press and associate director of news and information at Southwestern Seminary, served as the volume's editor.