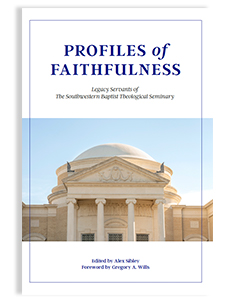 Profiles of Faithfulness :
Legacy Servants of The Southwestern Baptist Theological Seminary
Edited by Alex Sibley

Delving into the history of The Southwestern Baptist Theological Seminary reveals a pattern of Gospel faithfulness that goes back through the generations of faculty, students, and administrators, all of them called and sustained by a great and faithful God. This volume profiles some of these individuals, exposing how God has used a myriad of men and women to impact the seminary and, by extension, the Kingdom of God.
As the seminary's ninth president Adam W. Greenway has said, today's students and faculty are living in a house they did not build, drinking from a well they did not dig. This volume highlights some of the men and women who built the house and dug the well.
Paperback
Published: December 3, 2019
112 pages
6 x 9 inches
ISBN: 978-1-7327740-3-2
---
About the Authors
This volume was written by the Southwestern Seminary news writing staff, including Alex Sibley, Katie Coleman, and Julie Owens, with one chapter contributed by O.S. Hawkins, president of GuideStone Financial Resources. Alex Sibley, managing editor of Seminary Hill Press and associate director of news and information at Southwestern Seminary, served as the volume's editor. The book's foreword was written by Gregory A. Wills, research professor of church history and Baptist heritage at Southwestern Seminary.