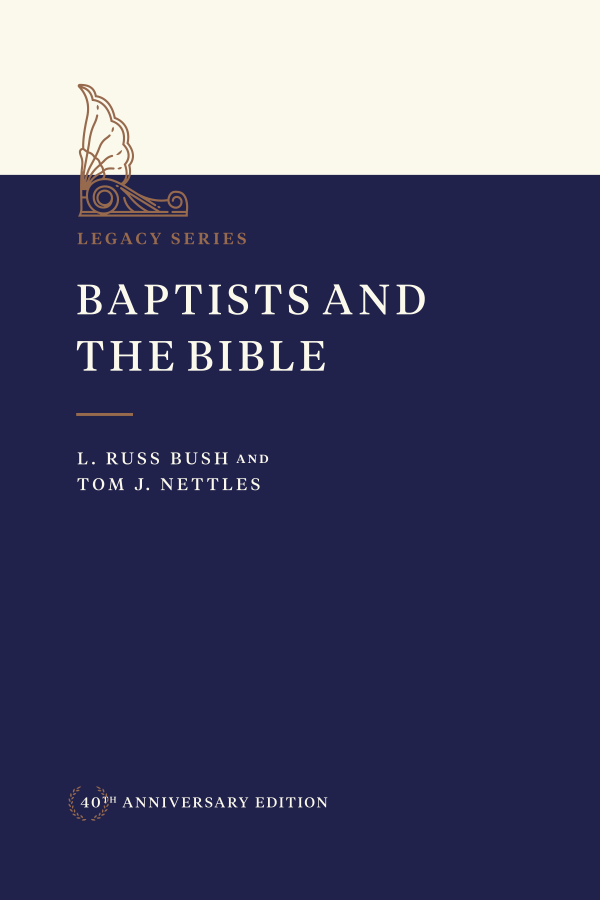 Baptists and the Bible :
40th Anniversary Edition
by L. Russ Bush and Tom J. Nettles
Originally published in 1980, Baptists and the Bible is a scholarly work that proved Baptists' historical commitment to the inerrancy of Scripture as Southern Baptists passionately debated the issue. The book was authored by Southwestern Seminary alumni and then-faculty L. Russ Bush and Tom J. Nettles. This new edition features a new foreword, a new preface by Nettles, and tributes to both of the authors, as well as updated material by Nettles concerning the Baptist Faith and Message 2000.
"Few books stand the test of time. Baptists and the Bible is that rare kind of work that has not only stood the test of time, but is as relevant today as the day it first appeared in 1980," says Southwestern Seminary President Adam W. Greenway in the book's foreword. "Indeed, it might be argued that this classic in scholarship by Tom J. Nettles and the late L. Russ Bush about the total truthfulness, inerrancy, inspiration, and authority of God's Word is even more relevant in 2020 as these matters again find debate amongst some evangelicals."
ORDERS OF THIS BOOK WILL BE FULFILLED BY THE SEMINARY HILL BOOKSTORE AND YOU WILL BE REDIRECTED TO ITS SITE FOR PURCHASE.
Hardback
Published: June 8, 2020
480 pages
6 x 9 inches
ISBN: 978-1-7327740-6-3
---
About the Authors
L. Russ Bush (1944-2008) was a noted professor, philosopher, apologist, and author, who most recently served as academic dean at Southeastern Baptist Theological Seminary.
Tom J. Nettles is senior professor of historical theology at The Southern Baptist Theological Seminary.